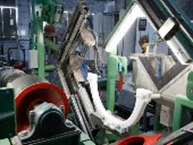 Therm-O-Matic Maxi Version
The Maxi system is designed to inspect and mark defect correctly on not straightened products. Maximum bending and end condition. The position of the billet/bar can be off +75 mm and -20 mm from the ideal position and be anywhere in a dynamic area. The position measuring system covers the area and controls the coil servo keeping the coil safe and centered on the billet/bar. The coil servo repositions the coil automatically when changing billet/bar sizes. When new inspection parameters are entered or downloaded.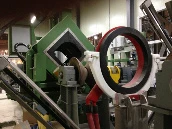 Therm-O-Matic Mini version
The Mini-version is a simplified version designed to inspect straightened billets and bars. Billet position measuring and coil servo is not required. The coil is mounted in fixed position on the scanner frame. The marking station is simplified with one row of paint guns mounted in the same way as maxi version with frame servo for positioning vertically according to product size. The pitch between paint guns depend on the customers request, 16,2 mm, 25 mm or one gun per 90 ° sector or one paint gun per side on squares. The marking accuracy depends on the bending and the distance between paint guns.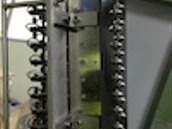 The marking system consist of 2 stationary lower marking blocks and 2 upper marking blocks mounted on a frame which is positioned vertically to position the block in correct position according to billet/bar size
The marking block is equipped with required paint pistols, with 16 mm pitch, to cover the – 20 mm bending down (between rollers) the billet/bar size and the 75 mm bending upwards.
The billet/bar position measuring system measure the position of the billet/bar and send the marking signal to the paint gun in the best poison to mark the defect most accurately. It also assures that defects in corners miss if the billet/bar is bended.